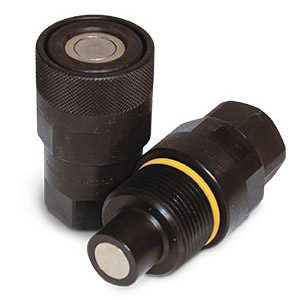 Threaded Flat Face Couplings Connect Under Pressure
Stucchi VEP HD Series is the ultimate solution most popular to hydraulic circuit applications subject to high pressure impulses, and circuits which experience high residual or trapped pressure in a line. The VEP HD thread to connect design eliminates premature wear or brinelling associated with locking ball designs subjected to high impulse pressures. The new HD version has upgrade of material, yellow o-ring visual ID, and larger mating areas. The patented internal valve allows connection and disconnection with high residual pressures. The Flat-Face design avoids loss of hydraulic fluid during connection / disconnection. The Flat-Face design is easy to clean, limiting contamination into the circuit.
• High working pressures: 400-500 bar range based on size,
• Threaded coupling system eliminates brinelling, premature leakage,
• Connect/disconnect under residual pressure up to 300 bar,
• Valve limits fluid movement during connection avoiding damage to other elements of circuit,
• Low connection force required.
Interchanges with VEP Series,
Higher grade of Steel for longer life, yellow o-ring visual ID, and larger mating areas,
Excavators w/ auxiliary line for attachments: Thumbs, Grapples, Hammers, and Compactors/Hopaks,
High impulse mobile circuits,
All construction equipment applications with higher pressure requirements or issues of connecting / disconnecting tool attachments under residual pressure,
Connect/Disconnect up to 300 bar residual pressure,
Save time changing tools.