Soak it in water and cut away.
The Stanley DS11 underwater Diamond Chain Saw is specifically designed to cut solid concrete while submerged in water. Cuts square corners without over-cut and can plunge cut sea walls up to 18″ thick. A minimum of 20 PSI water pressure is required for cooling and lubrication of the bar and chain.
Features:
18 inch bar capacity,
Water lubrication cooling,
HTMA quick disconnect couplers included on all models,
Wallwalker®  features provide leverage for cutting.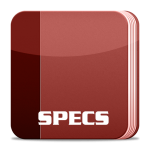 Specifications

| PART # | WEIGHT | LENGTH | WIDTH | DESCRIPTION |
| --- | --- | --- | --- | --- |
| DS115000 | 26 lb /11 kg | 38 in. / 97cm | 9 in. / 23 cm | 12 gpm (45 lpm) bar & chain not included, U/W |